As 2018 comes to a close, the biggest thing I've learned this year is that being a part-time freelancer and a full-time employee is hard-work!
The hours I spend commuting to and from work and then actually doing my job began to really take a toll on me. So much so that for the whole year I barely wore makeup. Yes! you read that right, ya girl barely wore makeup! I never thought my love for makeup artistry would ever be impacted as much as it has been in the past several years.
It got to the point where an extra thirty minutes of sleep was more important than doing my makeup.
My morning makeup routine which once consist of a full on makeup look gradually became very basic until one day I just said screw it and stopped doing my makeup all together. It got to the point where an extra thirty minutes of sleep was more important than doing my makeup.
Not only was I exhausted from my full-time job, but I was also creatively drained. Some days I questioned whether I should even continue being a Makeup Artist. I kept telling myself, if I couldn't handle the pressure of a full time job and makeup artistry, how would I be able to handle being a full-time Makeup Artist.
Freelancing is more than just applying making and sending invoices
Freelancing isn't easy and with social media added into the mix, it has become more than just applying makeup and sending invoices. 
Now it's all about amazing highlights via instagram, behind the scenes, Facebook and Instagram lives, daily uploads, blog post, etc.
I understand the importance of keeping up via social media, but I also feel its important to be truthful.
So here's my truth; putting together a shoot isn't easy, studio time isn't cheap, there is still certain techniques I'm learning to perfect, back pain is real, comparison is the thief of joy and some days I have absolutely nothing to post on Instagram.
Inspire and Motivate
There have been several things I've done to help inspire and motivate me creatively. The first thing I did was throw away makeup I no longer grabbed for anymore.
This was hard for me to do seeing as some of these products I've had since the beginning of makeup tutorials on Youtube.
I replaced them with several new eyeshadow pallets that I wanted to try out for awhile. The excitement I felt when I received these eyeshadow pallets was definitely what I needed to boost my makeup energy.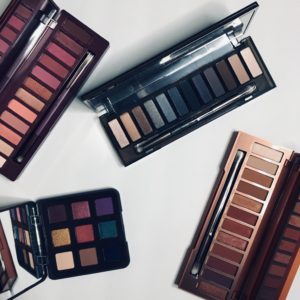 The second thing I did was an Instagram audit. I removed accounts that no longer inspired me which allowed the accounts that I barely saw to finally show up in my feed.
I also added a few new accounts such as Beauty Boss Amber, Celine Bertinart, and NikkiMakeup.
Finally, I forced myself to make time. When I'm on the train, I try to cut down on my social media intake. Instead I jot down different social media ideas and draft blog posts via my Notes app.
When I get home, I try to do at least 2 to 3 things for my freelance business.  I've even gotten brave enough to reach out to photographers online and of course I continue to take workshops geared towards assisting with my makeup artistry.
Although, I wasn't able to complete all my goals this year, I am happy with the goals I was able to accomplish. My work was even published in Dreamingless Magazine.
Working full-time and being a freelancer is going to be my life for the foreseeable future, so for now i'm going to try my best to balance both.
In regards to my makeup routine, i've slowly eased back into wearing makeup, which now consist of tinted moisturizer, blush and lipstick.  Hopefully that will all change in the new year. 
Until Next Time..